Posted By:

bunkclimber
U-joint installation -

10/12/2020

11:00 PM
Punching new universal joints into a Ford SuperDuty 3 piece driveshaft today..I used to do this in a vise with sockets and a BFH(*-*-hammer) but decided it's time to get with the modern times and be less barbaric..so I tooled up the mini-press brake with some simple tooling to push out old driveshaft universal joint(U-Joint) bearing cups and install new ones. The mini press brake has a 4"bore cylinder and 2200psi from a AC powered hydraulic pack,I think it's only 2gpm pretty slow but thats what you want with presses for this type of work..I have a drawer with odd ends of cutoff sections of steel rounds just for the purpose of building tooling and jigs to get things done..once again that has come in handy,I can actually find things for once..so over a cup of morning coffee I whipped up a bearing cup holder to push against.I made a slot in the top of it so I could pry jammed cups out but it turned out it wasn't necessary to force them out of the holder,merely just get a screwdriver in there to flick the old cups out of the die.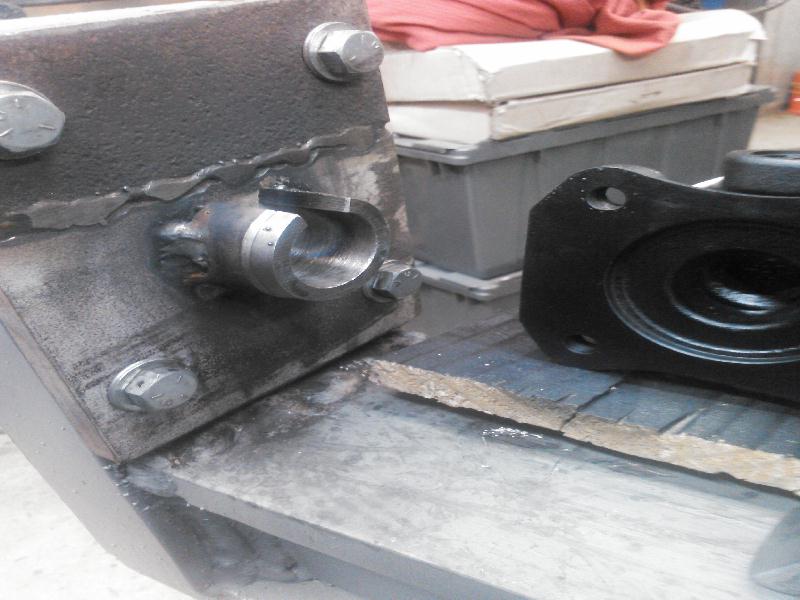 and a 3/4"round section of 4140 steel as a push pin to drive the cups out with, and to drive the new cups in with.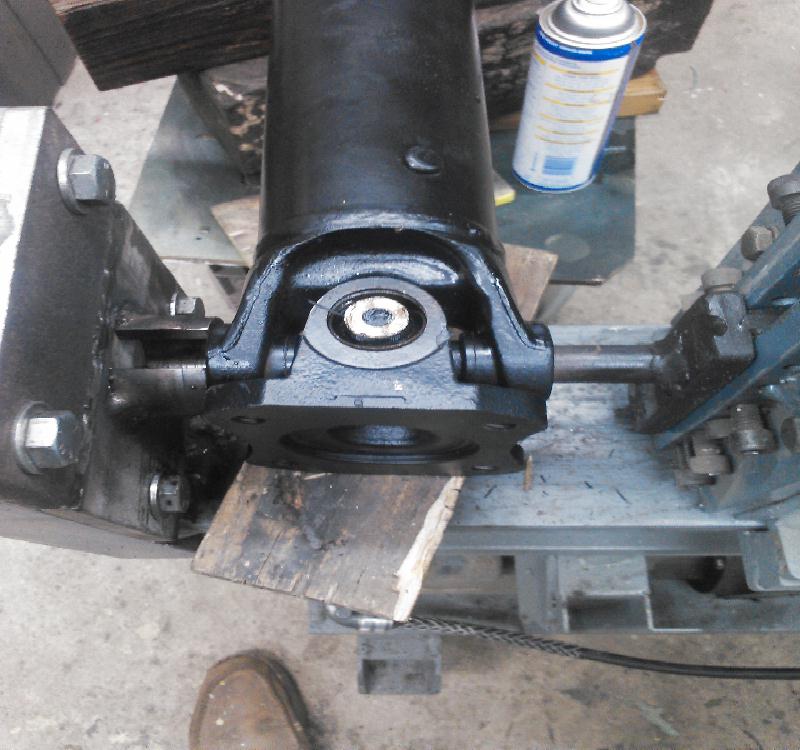 .
The die plate unbolts from the press platen with (4) 1/2-13 bolts and the die holder goes back on to restore the machine to being a press brake..the other half (pin die) I made with a 1/2" bar stock plug welded to a piece of 1/2"thick flatbar so it just fits into the press brake die holder thats part of the press(see above picture).Easy to remove with a few 3/8"socket head hex bolts..it can slide up and down in the die holder so you can align it crudely to push a bigger joint if need be.
I found that spraying the cups with a bit of WD-40-(saving the PB Blaster)-first sure made them come out easier than dry..after 15yrs of corrosion they sure go pop when not oiled up first...It's easy peasy when u have hydraulics,but also easy peasy to break a yoke or cup and cost yourself a lot of money in shaft repair..so alignment is critical when starting the pressing operation..worked out good for once
bunk